Does your patio look as though it's been through a hard winter? As well as looking unsightly, those green moss and algae stains can make paving slippery and dangerous to walk on. Our simple guide shows you how to give your patio a spring clean – and what not to do!
Preparing your patio for cleaning
Before using any cleaning products on your patio, follow these steps:
Clear the area of all plants, pots and furniture. Some cleaning products can harm or even kill plants, so if it's not possible to remove the plants, then make sure both they and the soil they grow in are protected, and don't let any of the products drain into the soil around them.
Sweep the area clear of any loose dirt, leaves etc.
Test a small, inconspicuous area of paving to make sure your cleaning method won't cause any damage to the pavers. We recommend using Patio Magic, in stock at Swarkestone Nursery.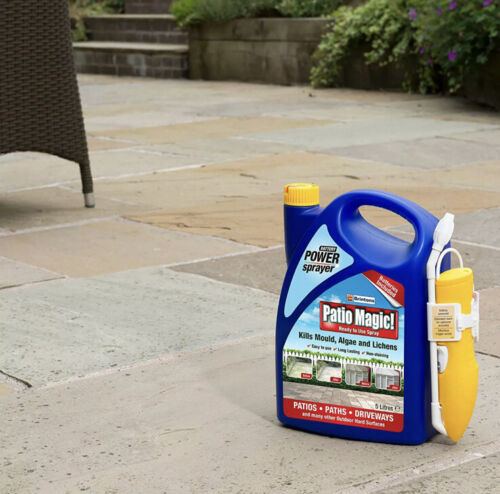 How to clean paving with a pressure washer
Pressure washers are very effective at cleaning paving, but must be used with care, as it's very easy to damage both paving surfaces and pointing with the high-pressure water jet. To get the best results, follow these tips:
Start on the lowest setting of the pressure washer, and use the fan spray rather than the jet.
Stand at a distance from the paving rather than spraying the jet directly onto the surface from close range.
Direct the spray at a shallow angle to the paving (aim for an angle of approximately 30 degrees) to avoid damaging the surface of the pavers.
Move the spray in a diagonal movement across the pavers, and avoid spraying directly along joints, as this could damage the pointing.
Should you use vinegar to clean paving?
White vinegar is often recommended as an eco-friendly cleaning product, and it is certainly effective at removing stains. However, many landscaping firms advise against using vinegar to clean paving, as the acid can damage the surface of the stones, particularly limestone or concrete pavers. To be on the safe side when cleaning your patio, it's probably best to stick to hot, soapy water and plenty of elbow grease!
Whatever you need to get your garden into shape this spring, you're sure to find it in our garden centre in Derby. Why not come in and see us today?