Giant pumpkins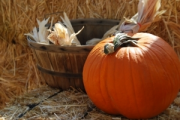 The record for the biggest pumpkin in the world is a holy grail for giant vegetable growers: these days you need a forklift truck just to get your pumpkin to the showground for weighing.
Most of us can't manage pumpkins quite that big, but it's fun to see how big a monster you can manage. A pumpkin growing competition is also a great way to get the kids involved in gardening.
In our garden centre in Swarkestone you'll find all you need for your crack at conquering the giant pumpkin world: just follow our easy steps to success.
Choose the right seed: 'Atlantic Giant' is a recognised monster pumpkin, but other varieties to try include 'Hundredweight' and 'Mammoth'.

Sow seed: in April sow one seed to a 10cm pot and keep in a frost-free greenhouse, heated propagator or on a sunny windowsill.

Keep the plants warm: cold will set back growth so bring your pumpkin indoors if nights are cold. Pot on into larger containers as it grows.

Dig a pumpkin pit: in late May, dig a hole in the garden about 1 metre wide and deep. Fill with a 50:50 mix of compost and well-rotted farmyard manure, and add slow-release fertiliser.

Plant out: Plant your young pumpkin plant into the pit once all threat of frost has passed, and cover with a lantern cloche until the plant grows too big.

Feed and water: Make sure your pumpkin never goes short of water, and feed weekly with liquid seaweed. When it starts flowering, switch to tomato food to encourage fruits.

Pinch out surplus flowers: After three fruits have formed, pinch out others as they appear. Eventually, select the biggest one and remove the rest so the plant puts its energy into just one fruit.

Lift the fruit: raising your pumpkin off the ground onto a pallet or straw helps get the air underneath it, ripening the skin and avoiding rotting.

Hire that forklift truck! Once your pumpkin has mellowed to a rich orange in around October, it's time to harvest.
Please ask the staff in our Swarkestone garden centre for more information and advice about growing giant vegetables in your garden.