Planting a fruit tree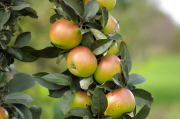 'One generation plants the tree, another gets the shade' – so goes the Chinese proverb. The fruit trees you plant today will grow for many decades into the future, though luckily you don't have to wait till your kids take over to enjoy the fruit.
Once you've selected your tree – traditional apples and pears, or perhaps cherries, apricots or a fig, all available from our Swarkestone garden centre – give it the best possible start to its long life by getting the planting right. Here's how:
Choose the site carefully: some fruit trees, such as cherries, will fruit in partial shade but most need a sunny spot that's reasonably sheltered.

Dig your hole: the size is important so your tree grows at the right height in the soil. Make your hole a third wider than the rootball, and the same depth as the container the tree is growing in (if your tree is bare-root, look for the 'soil mark' just where the roots meet the stem).

Use a garden fork to lightly loosen the soil at the bottom of the hole to let the roots get through easily.

Bang a sturdy tree stake, available in our garden centre, into the bottom of the hole at 45° to vertical, pointing into the prevailing wind. It should cross the trunk about halfway up.

Now place the tree in the hole next to the stake, spreading out the roots evenly if it's bare-root.

Back-fill the hole with soil, treading it in gently as you go so the tree is well anchored in the soil.

Water thoroughly, so the moisture sinks right down into the root zone, and top with a nice deep mulch of well-rotted farmyard manure, pulled back from the trunk so it doesn't encourage rotting.

Finish by tying the tree to the stake with a specialist rubber tree tie. You'll find these in our garden centre: they work in a figure-eight between tree and stake to prevent rubbing and allow the tree trunk to expand.
Please ask the staff in our garden centre in Swarkestone for more information and advice about planting fruit trees.