Keeping tools sharp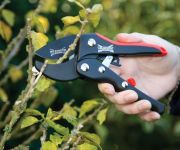 Gardeners demand a lot of pruning tools, especially in winter when there are roses, clematis, apple trees and fruit bushes to do. There are other cutting tools in regular use, too: hedging and topiary shears, and blades you might not think of as blades like hoes and border spades, both of which need sharp edges to cut through the earth.
Keeping your tools razor-sharp is key to efficient working. Blunt tools take more effort to use, and worse, they can tear at branches rather than cutting them cleanly, causing snags and ragged edges that invite rots and other infections to set in. Hoes and spades, too, are far more effective if they're sharp enough to cut through obstacles rather than bludgeoning them with brute force.
You'll find all you need to keep your tools honed to perfection in our Swarkestone garden centre, from sharpening stones to specialist sharpening tools for curved blades such as secateurs. To use them well and get your tools cutting cleanly, follow our top tips:
Work out which side has the flat cutting surface: for bypass secateurs, this is the curving blade that scissors past the 'anvil' one. This is the edge you need to keep sharp.

Work at an angle of about 30° to the blade and run the sharpening stone along the angled side – if you look at the blade sideways on you'll find out which that is. Work from hinge to tip, always moving the stone away from you to avoid hurting yourself. Keep doing this for a few minutes and you'll find you have a rough edge forming on the underside as tiny shards of metal shear off.

Use a circular motion to gently remove this burr from the other side of the blade, though working flat to the blade this time as you don't want to take the edge off again.

Consider a professional tool-sharpening service for larger-bladed items like hedging shears or petrol-driven hedge trimmers. These only need doing around once a year and it's easier to get the professionals in.
Please ask the staff in our garden centre in Swarkestone for more information and advice about sharpening gardening tools.