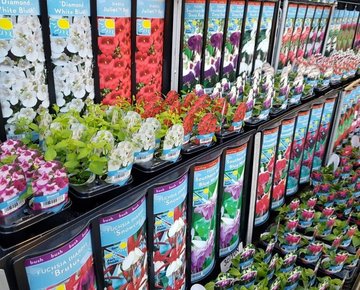 The new range of Kinder young plants is in stock, which includes, as well as plug plants, collections of colour themed plants, 20 plug value packs. Kinder Plants are an ideal way to make a start with your Summer bedding plants before the weather is mild enough to put the plants outside. They offer great value for money. You don't have to have a greenhouse or conservatory, a windowsill will do.
When you get your plants home if you are not ready to pot them up, put them in a light frost free position but if this is a windowsill turn the plants once a day to avoid them growing to one side and if the nights are very cold bring them away from the window at night. Make sure your plants are moist but not wet.
When you are ready to pot them on choose a good compost such as Westland John Innes No.2 Potting-on Compost and small pots. Push the little plant out of the sleeve rom the bottom and gently plant it into it's new home. When you have re-potted all your plants you should water them in, this should be sufficient until the plants have rooted to the edge of the new pot unless the surface of the compost is getting dry. Protect your plants from cold or frosty weather and do not put them outside until all danger of frost has passed. Indoors they will do best if kept between 16-18C and turned regularly to avoid them being stretched.
Once established you can begin to water and feed your plants regularly, once a week to begin with then more often as the season progresses. An ideal feed at this stage is Miracle-Gro All Purpose.